Overcome Depression by Sleeping
In the midst of dense daily activities, many people underestimate the importance of getting enough sleep. If you have not been very sleepy or exhausted, you may delay procrastinating. Well, unwittingly lack of sleep can interfere with your mental health. Especially if you are stressed, anxious, or getting hit by a psychiatric disorder such as depression.
To understand how enough sleep can be the key to successfully overcoming stress or other psychiatric disorders like depression, let's find out more from the following review.
Why do humans need to get enough sleep?
Humans need sleep because that's when your body repairs all kinds of damage, both physically and mentally. Sleep enables our body to produce chemicals that help to strengthen our immune system. Think of it as if your body is a car that has to rest and enter the garage to be repaired. Without adequate repairs, of course you are unable to function normally.
Getting enough sleep helps the brain manage stress and psychiatric disorders like depression

During sleep, humans will enter five important stages. The first stage is the work of the brain slows down so the body relaxes. In the second stage, you usually cannot hear or respond to the sounds around you because your mind has "moved" into the subconscious.
Well, in the third and fourth stages your body will perform various types of physical repairs. White blood cells will work hard to repair damaged cells in all parts of your body. If you do not make it into the third and fourth stages, you will become more vulnerable to disease.
Then after about 90 minutes, you will enter the fifth stage, REM (rapid eye movement). REM stage or deep sleep is usually accompanied by dreams, but it may not. At this stage all your mental problems are "fixed" by the brain.
Every day, the brain is flooded with various information and emotions, especially when under pressure from work or family, for example. You may not realize if you are under severe stress or an anxiety disorder, for example, because you are noisy with your partner.
When you fall asleep and enter REM, this buried anger will be channeled through dreams. If you are not dreaming of anything, it means that the brain moves the anger that was held back to the subconscious. So, you no longer need to hold back negative emotions towards your partner. That way you can focus on solutions or problem solving with your partner, not on their negative emotions.
Aslo read: What is the difference between stress and depression? – Know the symptoms
What happens if you often get lack of sleep?

The sleep stages described above take place like a cycle. That is after REM, you enter again into the first stage. And so on until you wake up. So, overnight you can enter REM many times. If you do not have time to enter REM or just once, the brain does not have time to process emotions or mental disorders you face. As a result, the brain becomes overwhelmed with all the burden of your thoughts and emotions. This is what can trigger various problems, for example as follows.
⦁ Difficult to concentrate
⦁ Difficult to remember
⦁ Difficult to make a decision
⦁ Difficult to learn new things
Without getting enough sleep every night, our brain and body systems will not be able to function normally.
Again, depression is a mood disorder accompanied by emotional and physical symptoms that interfere with your daily life. Everyone experiences depression differently. Some people may experience increased symptoms of depression at night. Night depression can also make or worsen insomnia, by keeping you awake longer or making it harder for you to fall asleep.
Causes of depression at night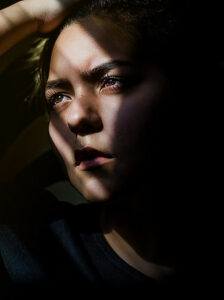 There are a number of causes that can cause night depression to appear. One common cause is a lack of activity at night. During the day, you can occupy yourself with work, school, or other social activities. However, at night, when you sleep, there is nothing but you and your mind.
Researchers have examined other things that can improve nighttime depressive symptoms. According some studies on animals, bright lights (especially blue and white) at night not only keep you awake, but can also improve symptoms of depression.
In this study, even having a TV in a dark room increases the animals' cortisol levels and creates changes in the hippocampus, both of which can improve depressive symptoms.
This also allegedly happened because your biological clock was disrupted. Symptoms of depression can very easily appear and worsen. One study found that too often and long exposure to light at night, can disrupt the biological clock and cause mood swings.
How to deal with depression at night?
There are various ways to deal with depression that occur or reduce symptoms of night depression. For depressive symptoms, regardless of the time they appear, you must maintain the treatment plan prescribed by your doctor. This includes taking medicine regularly, even when you feel fine.
If you have recently experienced symptoms of depression or you are not undergoing treatment, you should immediately see your doctor to get a diagnosis and help you find the right treatment for you.
To manage nighttime depression, you might consider trying some of these activities:
⦁ Relax at least for two hours before bedtime. This allows your body to slow down and get ready for sleep. Good sleep is important for your overall body health.
⦁ Perform stress relief activities. Calming activities that relieve stress such as yoga and meditation can help you relieve stress before going to sleep. You can also listen to calm music before you go to bed.
⦁ Avoid bright screens. Try not to look at a bright screen for at least two hours before going to sleep, and use a dim light.
⦁ Get better pillows that can provide more nighttime comfort.
⦁ Limit alcohol and caffeine consumption. Both of these can increase symptoms of depression. Having some caffeine during the day can also disrupt your sleep.
⦁ Set a sleep schedule. Go to sleep and wake up at the same time every day.⦁ Do a bedtime routine. Include relaxing activities like reading or showering before going to bed. Watching news is not a relaxed routine. It will just make your brain busy thinking about the information you get from the news.
⦁ Regular exercise. Exercise helps relieve depression and can make you tired, so that you can sleep soundly.
⦁ Come out in the sun every morning. This helps you regulate your biological clock.
⦁ Get up if you can't sleep. Don't just lie in bed staring at the ceiling, get out of bed and do quiet activities for a while until you feel tired.
With various problems caused by lack of sleep, your brain will be increasingly inconvenienced to dispel anxiety, stress, depression, or other psychiatric disorders. Therefore, make sure you always get enough sleep. If you have insomnia, call your doctor immediately. Insomnia can be one of the symptoms of mental disorders such as bipolar disorder, depression, and psychosis.
Also read: Most EFFECTIVE MEDITATION Techniques: Overcome Anxiety Disorders
—————————————————————————————————————————————–
This post may contain affiliate links, which means I make a small commission off purchases, at no extra cost to you. Read my full disclosure here. Thank you for supporting the work I put on this site!
—————————————————————————————————————————————–
We Stress Free does not provide medical advice, diagnosis, or treatment. However, if you need someone to talk to and want to make friends, please feel free to reach me at ferra@westressfree.com. If you would like to REDUCE your STRESS and are interested to do an ONLINE THERAPY, you can do so here.
—————————————————————————————————————————————-
The information contained in this article is for educational and informational purposes only and is not intended as health or medical advice. Always consult a physician or other qualified health provider regarding any questions you may have about a medical condition or health objectives.