Deep Breathing Exercise for Stress Management
One piece of advice that we often hear from the mouths of people around when they see us struggling and frantically trying to deal with severe stress is, "Calm down. Try to breathe first." Although hearing it sometimes can make the heart boiled with emotions, it turns out this ancestral discourse has a point too, you know! Scientific research proves that taking a moment to be alone and taking deep, powerful breaths makes you more calm and relaxed. But what is the reason? Find out from the review on deep breathing exercise for stress management below.
Severe stress can cause shortness of breath
There are so many things that cause stress, such as family problems, financial problems, work, to the relationship with a partner. Stress is natural, but of course this should not be allowed to drag on, because you will be vulnerable to depression and various other serious illnesses. This is because when stressed, the heart will beat faster which causes an increase in pulse and breathing.
Therefore, good emotional control is needed so that you can deal with stress better. One way you can try to control emotions and deal with stress is to practice breathing. Research shows that breathing as deep as possible when you have a lot of thoughts or being stressed can make you more calm and relaxed.
When you breathe, your diaphragm tightens and moves downward to make room for the lungs to develop fully filled with oxygen. Then the diaphragm will relax again and move up to the chest cavity when you exhale. The average breathing rate of a healthy adult human being relaxed is 12-20 breaths per minute.
But when we are in a stressful situation, the diaphragm is evenly distributed so we start breathing quickly and superficially. Shallow breathing causes the lungs to not get the maximum portion of oxygenated air. As a result, you become short of breath. Panic reactions and discomfort from not being able to breathe normally then make your stress levels, blood pressure, and anxiety even worse.
Why is deep breathing effective for dealing with stress?
There are many studies that show the health benefits of proper deep breathing techniques. People who have asthma, high blood pressure, anxiety disorders, depression, insomnia, and chronic pain are reported to have improved their condition after learning to breathe properly.
Incoming oxygen replaces carbon dioxide that comes out when we breathe deeply bringing a myriad of benefits to the body's system. Controlling breathing has been reported to slow down the heart rate and reduce or stabilize blood pressure. This has been linked to lower stress levels.
But it turns out the key behind the efficacy of deep breathing techniques to deal with stress both physically and mentally, is not merely a full share of oxygen intake obtained by the lungs, but also from a neural pathway in the brain that controls your respiratory system.
The joint research team from Stanfod University School of Medici and the University of California found that the human respiratory system is affected by nerve circuits in the brain called the pre-Bötzinger complex. This is located at the base of the brain stem called the puncher. They found a group of neurons in the pre-Bötzinger complex whose job was to send a signal to an area in the pons that regulates alertness, attention and stress.
It is also this nerve area that affects your emotions when you sigh, yawn, pant, sleep, laugh, and sob. The researchers concluded that this area monitors your breathing patterns, then reports their findings to other structures in the brain stem affecting emotions. This is what affects your emotions when stressed.
By controlling breathing, you become focused on slow and deep breathing so that it helps you free yourself from thoughts and sensations that trigger stress. Deep breathing can calm the nerves in the brain. This is another reason why deep breathing can be a powerful way to deal with stress.
Benefits of Breathing Exercise
The benefits of breathing exercises are most felt in people with asthma, hypertension, anxiety disorders, to some chronic diseases. Why is that? When you take a deep breath, oxygen that enters the body slows the heart's work, so that blood flow is also stable.
However, it turns out that not only because of the role of oxygen in the body, the nerves controlling the respiratory system also play a role in making the body more relaxed when you practice breathing. A joint study conducted by the University of California and Stanford University School of Medicine revealed that there is a role for nerves in the part of the brain that functions to regulate the respiratory system, called the pre-Botzinger complex.
This nerve is located in the base of the brain stem which is often called the puncher. The function of this nerve is to send a signal to the puncher whose job is to control stress, anxiety, and attention. This part is also what influences the change in your emotions when you laugh out loud, sob, cry, and pant when you breathe.
How to practice breathing to reduce stress
Practicing breathing is not difficult, you just need a calm atmosphere so you can feel more relaxed. The following are the types of breathing exercises that you can follow in order to feel the maximum benefits of breathing exercises:
1. Stomach or Abdominal Breathing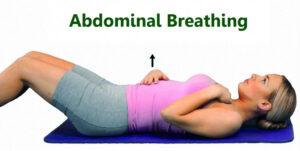 The first step you must take before starting abdominal breathing is to lie down as comfortable as possible. Next, place one hand on the chest, and the other hand on the abdomen. You can begin to breathe as deep as possible through your nose until your lungs feel full, for about three seconds.
While breathing in, feel how your stomach will deflate, while the chest will feel stretched. Then, exhale slowly, in about four seconds. Do it repeatedly until you feel calmer.
2. Nasal Breathing
Before starting this breathing exercise, you should look for a location with a comfortable floor for you to sit. Straighten your back, but don't lean against the wall. Then, close your right nose with your right thumb and inhale oxygen through the left nose as much as possible slowly.
After you have had enough, cover your left nose with your right ring finger. Meanwhile, lift the thumb that is clogging the right nose, and exhale. Do as much and as often as possible until you feel relaxed. Not only does it reduce stress, it also helps you focus more.
3. "Squared" breathing
Squared breathing, also known as samavriti pranayama or box breathing, is the easiest breathing technique to do. The best time to do this is before you go to sleep. Soon, it only took about 20 minutes.
The trick, try to sit as comfortable as possible on your bed. Cross your legs and straighten your back. Then, try to breathe as deep as possible for three seconds. Hold and exhale. Do it repeatedly, add one second each time you repeat the movement.
That was the type and way of doing breathing exercises to reduce stress. You will feel the benefits of this breathing exercise to the maximum if you practice it every day. Now, if you experience problems regarding mental health, you can discuss the problem with an experienced psychiatrist / psychologist.
How to do deep breathing techniques to deal with stress
In order to be able to use breathing techniques to deal with stress and anxiety, it is important to practice deep breathing every day. The easiest way to do this is to first find a quiet and comfortable place to sit or lie down using a comfortable yoga mat.
Afterwards, try to breathe normally as you normally do and place your hands on your stomach. Then inhale slowly through your nose, allowing your chest and lower abdomen to expand until you feel your hand go up. This means that your diaphragm is moving downward to make room for your lungs to be filled with oxygenated air. Let your stomach expand until it reaches its maximum capacity.
Hold your breath for a few seconds, and then exhale slowly through your mouth (or can pass through your nose if you feel this is more comfortable). You should also feel your hand come slowly down. Repeat for several minutes.
Practicing deep breathing techniques every day will get your body accustomed to breathing the right way. That way, when you are in a stressful situation, you will instinctively use this breathing technique to deal with stress.
———————————————————————————————————————————
We Stress Free does not provide medical advice, diagnosis, or treatment. However, if you need someone to talk to and want to make friends, please feel free to reach me at 

ferra@westressfree.com

. If you would like to REDUCE your STRESS and are interested to do an ONLINE THERAPY, you can do so 

here

.
———————————————————————————————————-—————————-
The information contained in this article is for educational and informational purposes only and is not intended as health or medical advice. Always consult a physician or other qualified health provider regarding any questions you may have about a medical condition or health objectives.
Thank you for reading today's topic: Deep Breathing Exercise for Stress Management