How Effective is Online Therapy?
Psychological therapy for cases like depression is generally given face to face. However, as technology develops, lifestyle changes, and there seem to be more needs in our society, currently, online psychological therapy in various countries has become one of the most widely used alternatives for treating stress and mental illness. Overcoming the difficulty of access to mental health services is one of the advantages of online therapy because as long as an internet connection is available, the therapy can be accessed from anywhere. However, how effective is online therapy in overcoming psychological problems? Find out the answer through the following review.
How Effective Is Online Therapy?
In this age of sophistication, everything is accessible online. Starting from monitoring the latest news around the world, shopping, to buy medicines online. In fact, now psychological therapy can be done online. Yes, you only have to click once and connect directly to the online therapy site and get access to talk to mental health experts.
What do we do during online therapy?
Online therapy, also known as e-therapy, e-counseling, telepsychology, or cyber-counseling, is a therapeutic method that connects counselors with their patients through cyberspace. Here, counselors can only provide psychological support through the internet, either through instant messaging applications, email, or video calls.
Sometimes, online therapy is still underestimated by a number of mental health experts in the world. In fact, according to a study published in the World Journal of Psychiatry, patients who receive mental health services through video calls experience psychological changes that are better than before.
The development of telepsychology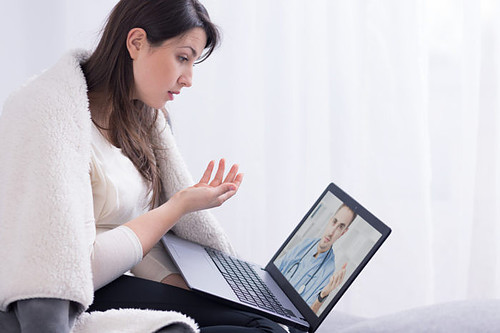 Psychologists generally refer to any therapy assisted by telecommunications devices or devices as telepsychology — telephone therapy, text therapy, or online therapy.
Whenever and wherever, we can chat with psychologists via websites, cellphones, or mobile applications, we can participate in telepsychology services.
Researchers have a great interest in telepsychology and telehealth, evaluating how well it works, especially compared to conventional psychotherapy sessions.
Various benefits of online therapy to overcome psychological problems
Many people are interested in cyberspace-based therapy because it is practical, economical, and can be accessed anywhere. Especially for those who experience iatrophobia, aka afraid to meet with a doctor, this will certainly make it easier for them to get medical advice from health experts without having to meet in person.
Although this is not the first choice, online therapy has proven to be effective in treating depression and anxiety, eating disorders, ADHD, ASD support, and reducing stress.
According to Dawn Kingston Ph.D., a professor, and practitioner of psychology, online therapy support many things:
1. Easy access
As long as we have internet access, we can do online therapy from home and do not have to take much more time to travel.
Also, not all regions have access to adequate mental health services. So, here is the role of online therapy that can make it easier for people with mental disorders in remote areas to get therapy that suits their needs – without having to bother going out of town.
2. As effective as conventional therapy
This is known from the review of experiments or studies conducted over the past 20 years on guided e-therapy.
3. Affordable
Online therapy is an affordable choice for those of us who need it when compared to conventional therapy. It's usually a fraction of the cost of face-to-face therapy sessions.
4. Not limited to insurance plans
Online therapy is not limited to insurance plans, so we can extend it indefinitely.
5. Information is more accessible
When accessing the internet, people will find all the information needed easily, including the ins and outs of information about mental health. Sometimes, people with mental disorders tend to feel uncomfortable discussing the problem with friends or family. In the end, they sought information and help through available online therapy to overcome their psychological problems.
6. Make it easy for people with disabilities
People with disabilities have challenges and higher levels of stress making it more likely to be depressed. The reason is, they tend to experience limited movement, an unsupportive social environment, and difficulty finding work. As a result, they become insecure about just leaving the house and interacting with others.
Well, the presence of this online therapy can be a breath of fresh air for people with disabilities. They can still get psychological counseling without bothering to leave the house or think of other people's views of it.

Still, online therapy cannot replace face-to-face therapy
Basically, online therapy cannot be considered the best psychotherapy that can replace traditional or face-to-face therapy. When patients come in person, counselors can more easily diagnose mental health problems experienced by patients. The counselor can see the patient's facial expressions, body language, and voice to make diagnosis easier. Because, these things can provide a clearer picture of the feelings, thoughts, moods, and behavior of patients with counselors.
However, online therapy can still be done to help solve the problems of life, work, and romance that have a negative impact on a person's psychological condition. As a patient, you may not have time to see the counselor directly, but you still need an immediate solution for your condition. And even more so nowadays with the COVID-19 pandemic quarantine and social distance order, this could be just a solution you need.
Through online therapy, you'll be able to get a personal licensed therapist and do your counseling via video calls, phone calls, and texts.
Bottom Line
Online therapy can be a great solution to help you with your conditions especially when you have busy schedules or when you don't feel comfortable talking to doctors face-to-face. Plus, it's much cheaper compared to the in-office sessions.
Is it effective? Yes, it is. There are many studies being done on different mental disorders. Through the online sessions, you can still get the awareness you need towards your conditions.
The choice is yours to make. Do your research first if you really want to try online therapy. Before you decide to go online, consider secrecy, ethical and legal issues, and the therapist's qualifications. As much as possible try to always consult face to face with counselors to get more satisfying results.
Sharing is caring. Share this post if you find this post helpful!
Stay safe, happy, and healthy! 🙂
—————————————————————————————————————————————–
This post may contain affiliate links, which means I make a small commission off purchases, at no extra cost to you. Read my full disclosure here. Thank you for supporting the work I put on this site!
—————————————————————————————————————————————–
We Stress Free does not provide medical advice, diagnosis, or treatment. However, if you need someone to talk to and want to make friends, please feel free to reach me at ferra@westressfree.com. If you would like to REDUCE your STRESS and are interested to do an ONLINE THERAPY, you can do so here.

—————————————————————————————————————————————-
Disclaimer: The information contained in this article is for educational and informational purposes only and is not intended as health or medical advice. Always consult a physician or other qualified health provider regarding any questions you may have about a medical condition or health objectives.
Thank you for reading today's topic: How Effective is Online Therapy?